Baskraz+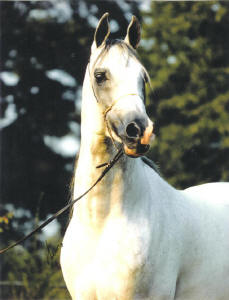 Raz is a 16 hand high Polish/Crabbet arabian stallion who
loves to show off his moves to anyone who is looking! He is totally an attention getter.
This breeding accounts for his size, temperament, trainability, and movement.
Part of this is his ability to learn and understand new things quickly. He looks just like
his pedigree predicts!
Raz is a Breeder's Sweepstakes Nominated Sire, which means
that all of his offspring are eligible to be entered into the program at tremendously
reduced rates. It is a great program to be involved in, and it increases the value
of the progeny when it comes time to be sold.
Pedigree for Baskraz+
Sire
La Basque
Sire
*Bask
Sire
Witraz
Sire
Ofir
Dam
Makata
Dam
Balalajka
Sire
*Zarife
Dam
*Roda
Dam
Habina
Sire
Hallany Mistanny
Sire
Gulastra
Dam
Habiba
Dam
Binni
Sire
Indian Magic
Dam
Silfina
Dam
Storms Lady Ann
Sire
Dark Strom
Sire
*Electric Storm
Sire
Natez
Dam
*Muneerah
Dam
Nejdma
Sire
Ferseyn
Dam
Farnasa
Dam
Egisa
Sire
Regis
Sire
Rabaar
Dam
Farnasa
Dam
Arabi Angel
Sire
Rabaar
Dam
D Arch Angela
Photos
---
Contact for more information and to book a breeding:
Katie Wray
(615)584-1007
(615)217-6905
1202 A7 Old Lascassas Pk
Murfreesboro TN, 37130
RazaFraz@aol.com

Baskraz's full webpage:
http://www.geocities.com/californialoven7